Tram in Florence: A Work in Progress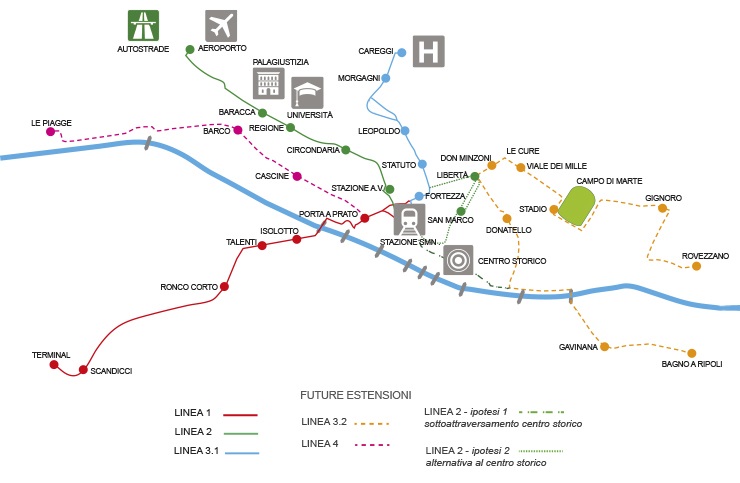 Creating a Tramway service in Florence is a demanding job that, once complete, will redesign the traffic conditions of the city streets, focusing on a means of public transportation that is non-polluting and that is designed to considerably reduce private traffic and its resultant emissions of CO2.
The first line that connects Florence to Scandicci is complete, while the production for the lines 2 and 3.1 are now in the works. These will connect the city center (Santa Maria Novella railway station) with other fundamental infrastructures such as Peretola airport and Careggi hospital, the new palace of justice and the university campus, all located north-west of the metropolitan area.
The final project will allow for the subsequent extension of the tram network toward the neighbouring towns of Campi Bisenzio and Sesto Fiorentino, but the tramway will also stretch toward the south-east, up to Bagno and Ripoli.
The execution of the construction work has been organized in such a way as to minimize inconvenience for both the resident population and the temporary guests of our city, but inevitably, there will still be problems, especially in the aspects of mobility, parking and traffic flow.
To cope with this, for the duration of the construction, the City of Florence has prepared an informational service in real time, which will use all the channels of communication at its disposal and make it possible to follow the progression of the construction and announce alternative routes for mobility
.
The Florentine Tramway System
The Florentine tramway consists of 3 Lines:
• Line 1 - Florence S.M.N. - Scandicci (in operation since 14.02.2010)
• Line 2 – Peretola - Piazza dell'Unità d'Italia (Revised Executive Project approved by 110 of the D.G.C. on 16.04.14 )
• Line 3.1- Careggi - Florence S.M.N. (Revised Executive Project approved by 110 of the D.G.C 16.04.14)
In addition, the development of the project relating to the extensions of the tramway system to the South-east area of the city is currently represented by Line 3.2 (approved Preliminary Draft). Finally, the Structural Plan contains other further projections on the future development of the Tramway System (Line 2bis projected subway to Historical Center - Line 4 - Line 5).